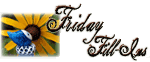 1. Contact may cause your heart to stop.
2. The parties hereto do mutually agree to exactly what I want.
3. Disney parks on both coasts.
4. SEX sounds really good right about now!
5. I positively love my new Grand Son.
6. A good night's sleep always makes me smile :-)
7. And as for the weekend, tonight I'm looking forward to pictures of my Grand Son being brought home, tomorrow my plans include housecleaning and cooking and Sunday, I want to shop for plants!