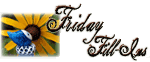 1. The Margarita had an extra secret ingredient; it was Sugar!
2. The Sun Was Peaking through my window.
3. Right now, I need Sanity and a Margarita (yes it's 9am).
4. No Where is where I went Thursday night; it was Boring.
5. Why does My body hurt so much?
6. All I can think of is the Sweet Face of my GrandSon Rudy.
7. And as for the weekend, tonight I'm looking forward to Continuing to Clean, tomorrow my plans include Continuing to Clean and Sunday, I want to Relax!