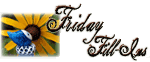 FRIDAY, FEBRUARY 29, 2008


1. I'm looking forward to The Birth of my First Grandchild next week.
2. I don't handle disappointment very well.
3. Ice Cream is something I could eat every day.
4. Warmth and sunlight lifts my spirit.
5. Houston here I come!
6. I dislike tattoo(s).
7. And as for the weekend, tonight I'm looking forward to sleeping deep, tomorrow my plans include driving to Houston and Sunday, I want to sleep in and get breakfast tacos.